Ultra Tool & Manufacturing supplies metal stamped and metal fabricated parts to the leading fitness equipment manufacturers. Our parts and components can be found in commercial and consumer cardio and strength training equipment. Realizing that time to market is critical, our design-to-production team will work with you to establish a feasible timeline that is focused on reducing costs and delivering high-quality metal parts.
No matter the industry – cost, quality and on-time delivery are key goals for production to be successful. Read the case study below to better understand our manufacturing expertise and services.
Parts
Treadmills, elliptical trainers and rowing machines
Single and multi-station leg, arm and core weight machines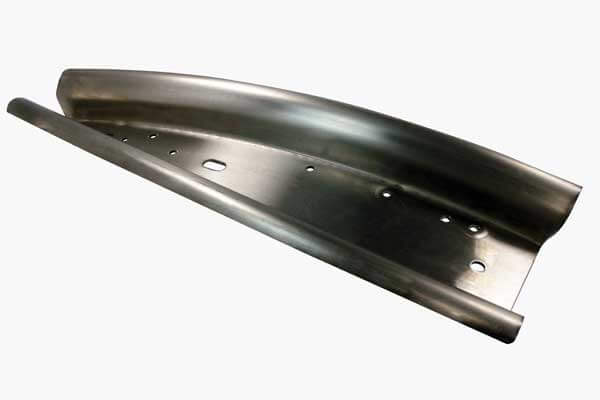 Forming a Metal Part With the 800-Ton Press
This ramp is manufactured on a progressive die that includes only ONE forming station to complete that stage of production. A detailed finishing process includes deburring and polishing.
Read more
Our

capabilities

We utilize today's most cutting-edge equipment with our design expertise and hands-on manufacturing experience to produce high-quality metal parts integral for use in multiple industries.
State-of-the-art press control system with in-die sensor automoation reduces tool downtime and eliminates defects
(13) precision metal stamping machines ranging from 45 to 800-ton capacity can handle volumes from the hundreds to the millions
Drawing ferrous and non-ferrous materials up to 6" deep
VISI-Design in 3D provides detailed design-to-production plans
Full-service in-house tool room builds and maintains tooling, gauges, and fixtures for production
Fiber laser able to cut material thicknesses up to .700" for steel, .250" for stainless and .196" for aluminum, brass, and copper.
CNC press brake forms and bends materials quickly and precisely
(9) CNC machines in tooling set up with VISI-Design to deliver customized operations with precision and speed
Technical engineering assistance optimizes materials, reduces costs and ensures repeatability.
Prototyping completed in-house with customized tooling
Quality audit programs
ISO 9001:2015 certified
Extensive range of value-added operations that are customizable to part and customer needs.
Utilize NPI to analyze and test the manufacturing process for new parts
PPAP (Production Part Approval Processes)