Delivering

Precision

Metal Components
No matter the industry – cost, quality and on-time delivery are key goals for production to be successful.
From a tool and die build, to metal stamping to metal fabrication Ultra establishes a feasible manufacturing process that will meet your customized goals.  This requires our dedicated and experienced employees utilizing state-of-the-art equipment and the latest technology from the design room to the manufacturing floor on every project.
Read the case study provided on this page to better understand our manufacturing expertise and services.
Our

capabilities

We utilize today's most cutting-edge equipment with our design expertise and hands-on manufacturing experience to produce high-quality metal parts integral for use in multiple industries.
State-of-the-art press control system with in-die sensor automoation reduces tool downtime and eliminates defects
(13) precision metal stamping machines ranging from 45 to 800-ton capacity can handle volumes from the hundreds to the millions
Drawing ferrous and non-ferrous materials up to 6" deep
VISI-Design in 3D provides detailed design-to-production plans
Full-service in-house tool room builds and maintains tooling, gauges, and fixtures for production
Fiber laser able to cut material thicknesses up to .700" for steel, .250" for stainless and .196" for aluminum, brass, and copper.
CNC press brake forms and bends materials quickly and precisely
(9) CNC machines in tooling set up with VISI-Design to deliver customized operations with precision and speed
Technical engineering assistance optimizes materials, reduces costs and ensures repeatability.
Prototyping completed in-house with customized tooling
Quality audit programs
ISO 9001:2015 certified
Extensive range of value-added operations that are customizable to part and customer needs.
Utilize NPI to analyze and test the manufacturing process for new parts
PPAP (Production Part Approval Processes)
Battery
Ultra Tool & Manufacturing has been providing complex metal stamped and fabricated parts and components for over 50 years.  The technology of our ERP system maintains production schedules and inventory to meet the changing demands of this industry.  In addition,  Ultra recognizes consumer and industrial battery manufacturers are working to improve performance, reduce weight and ensure longer battery life. We work with all types of materials including; copper, nickel, steel, stainless steel, Kovar, Inconel, 52 alloy, and other nickel alloys.
Our parts and components can be found in alkaline, lithium - Ion and nickel batteries in the automotive, aerospace, residential, mass transit, heavy trucking and locomotive industries.
Parts
Battery components including terminals, topshells, caps, cell tops, cans/covers.
Connectors & fuse components
Copper busbars
Interconnect boards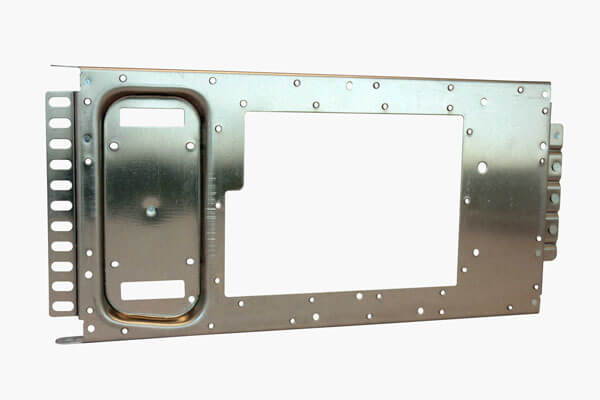 Prototyping to Production
A successful transition from a two-piece welded assembly to one-piece aluminum frame with 21 hardware insertions required the manufacturing expertise of our Die Designers and Toolmakers.
Read more