Persistent, detailed prototyping and a collaborative relationship with a premier motorcycle manufacturer delivered a high-quality, "in spec", and durable aluminum solenoid bracket that is ready for full production. And that just didn't happen overnight, it took a few months of diligent designing, building, prototyping, and testing to produce the "right" progressive stamping die.
As an engine component, this aluminum bracket needed to achieve minimal variation from its design print to ensure it performs correctly and also properly fits in its specified location.
The most challenging aspect of this solenoid bracket was managing the distortion that naturally occurs during metal stamping when using thicker aluminum material that is 0.16″. Ultra's Die Designers and Manufacturing Engineers worked to minimize this distortion and maintain the integrity of the solenoid bracket's design.
After the initial prototype, the customer requested the weight of the part to be reduced and even this minimal adjustment led to more distortions during metal stamping.  This meant slightly modifying the dimensions of the holes and other openings on the bracket as well as the wire harness feature. The wire harness extrusion is critical as it keeps electrical wiring intact near the motor.
The second challenge that needed to be addressed during prototyping was managing the stress and distortion that would be experienced from inserting several pieces of self-clinching hardware. To test the strength and performance for different types of hardware we utilized push-out and torque tests.
Also, with each modification our Quality Department measured key datum to determine if the solenoid bracket was "in spec" even with the known distortion that was occurring. This quality testing involved checking 500 different points on the aluminum bracket.  After measurement studies were completed, they were reviewed with the customer and a cross-functional Ultra team consisting of Quality Technicians, Manufacturing Engineers, Die Designers, and Toolmakers.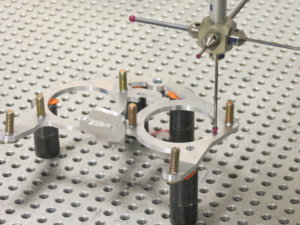 As we worked with this motorcycle manufacturer to match the solenoid bracket to its design print the COVID pandemic grew; requiring almost all of the work to be completed via Microsoft Teams. The customer shared with us what was critical in their assembly and Ultra was able to easily illustrate how the solenoid bracket was being made in the progressive stamping die with video conferencing. This communication saved considerable time compared to emailing back and forth. In addition, it provided the customer an exclusive look at our Tooling, Metal Stamping, and Quality departments as we worked on the solenoid bracket.
A progressive stamping die has been precisely designed and built to deliver consistent, high-quality solenoid brackets. The customer and Ultra have 100% confidence this manufacturing process will deliver the needed quantities of this solenoid bracket within the requested timeframe. Check back in a few weeks to watch a video highlighting the solenoid bracket's metal stamping operations.