Consistency and quality are terms repeated over and over in manufacturing for good reason. They are key factors in achieving cost, performance, and delivery goals for your metal part. And utilizing various suppliers throughout the manufacturing process introduces variability that can negatively impact consistency and quality.
Experience higher levels of consistency and quality with Ultra's design-to-production services. We utilize innovation, experience, established processes, and technology to ensure your manufacturing goals are achieved for the long-term.
Here is evidence that our expertise spans from design-to-production for metal parts serving multiple industries. Our supplier relationships are built on trust and collaboration to ensure we meet the customers' current production needs AND can accurately prepare for future changes to production quantities and design modifications.
1. DESIGN A METAL PART FOR POWER EQUIPMENT
2. BUILD AND MAINTAIN THE PART'S PROGRESSIVE STAMPING DIE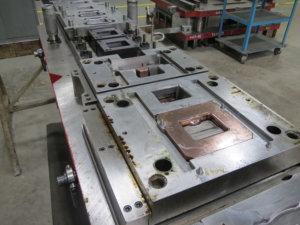 3. METAL STAMPING
4. FINAL DELIVERY