Ultra is manufacturing the Ratchet Arm for a growing sector of the energy industry.   This part is located on electricity-generating backpacks used by the military, disaster relief workers, hikers and students.  The movement of both the individual and the backpack creates energy for future consumption and without precision parts, like the Ratchet Arm, this system won't produce the needed energy.
MANUFACTURING PLAN:
Utilize laser cutting to manufacture this ratchet handle based on the lower quantity needed, its features and the aluminum material.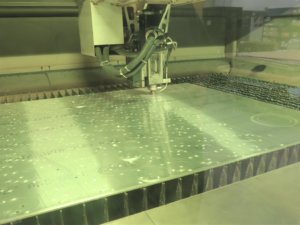 Dimensions needed to be exact on the ratchet handle for the pins and bushing sleeve to fit as designed and perform with precision.  Prototyping with the laser reduced costs as modifications only required changes to the programming versus changes to tooling if stamping had been selected.
And with a manufacturing process established we began producing ratchet handles for this innovative customer in the energy industry.
FIRST CUT TO FINAL ASSEMBLY:
Laser-cut the form of the ratchet handle and its holes.
Machine holes with specialized equipment for accurate press-fitting.
Utilize outside services for anodizing.
Perform final assembly & quality inspection at our facility.
Ultra will work with you to select a manufacturing method that best meets your cost, quality and delivery goals.