MATERIAL, MATERIAL, MATERIAL….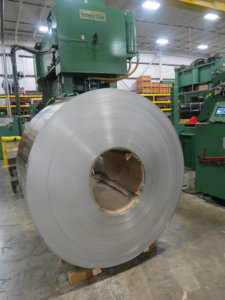 Repeat this to yourself because it should be a critical factor in the design process of your metal part. Take a proactive approach to material selection with Ultra on your next project and minimize delays, costs, and stress. In this blog, we will only address a single aspect of selecting the right material since it is such a complex topic. New information on material selection will come in future blogs so keep an eye on Ultra's website.
Readily Available Material – If you have a better understanding of this term it will provide an easier design-to-production process.
Readily Available Material can be purchased in varying quantities for regular gauge thicknesses, normally stocked grades, and normally stocked tempers. This material can be easily determined by what the majority of the larger OEM's are requiring throughout the United States.
Utilizing a material that has physical characteristics outside of the normal ASTM and ANSI standards can lead to ordering the material in a mill run.  Mill runs are special order and may only be available in specified increments, such as 10,000 lbs. with a red metal or 40,000 lbs. with carbon steel. Be aware that if required to purchase a large amount of a mill run material you need to consider your metal part's life cycle as volumes tend to decrease over time. And it is no surprise that mill run material will drive up your costs.
Scenario 1: Submit your finalized design print to Ultra for our experienced Estimating Team – Matt, Ken & Justin, to review. You learn that your selected material is unavailable or too costly. Design modifications might be required to adapt for a new material with different physical characteristics such as gauge thickness. This can delay project deadlines, push back production start dates and lead to a rushed decision that finds you selecting a material that is of lesser quality and more costly.
Scenario 2 (THE BETTER CHOICE): Contact our Estimating Team during the early stages of designing your metal part. This provides the opportunity to make changes to either the material selected based on availability or the part's design before features and specifications are finalized.