Ultra's dedicated Fabrication team is currently involved in a product development project that requires 14 NEW METAL PARTS to be prototyped.  The final product is a blade sharpening device for an Outdoor Power Equipment customer that is expanding their product line.   We have successfully delivered a different model of this blade sharpening device for the customer.
How does this Prototyping Process work?
First, the customer provides a design print of the assembled blade sharpening equipment.
Second, Ultra's Designers create separate flat models for each of the 14 parts and these are used as starting points for the Fabrication team.  These designs are based on the best-case scenario during the manufacturing process and don't take into consideration material limitations and equipment capabilities.
Third, Fabrication Technicians input the flat model data into Metal Studio Software that is utilized to program the Salvagnini Laser.  This creates a preliminary tool path for the laser.
Fourth, a micro joint, comparable to a perforated edge and a key aspect of the laser cutting process is then evaluated by the Fabrication team.  A micro joint keeps the part stable, flat and attached to the main sheet during the cutting process.  Micro joints aren't part of the flat model created by the designers and need to be added by the Technicians into the laser software as they understand the best location and the number of micro joints needed.  A micro joint cannot be located on a bend or in the path of the laser.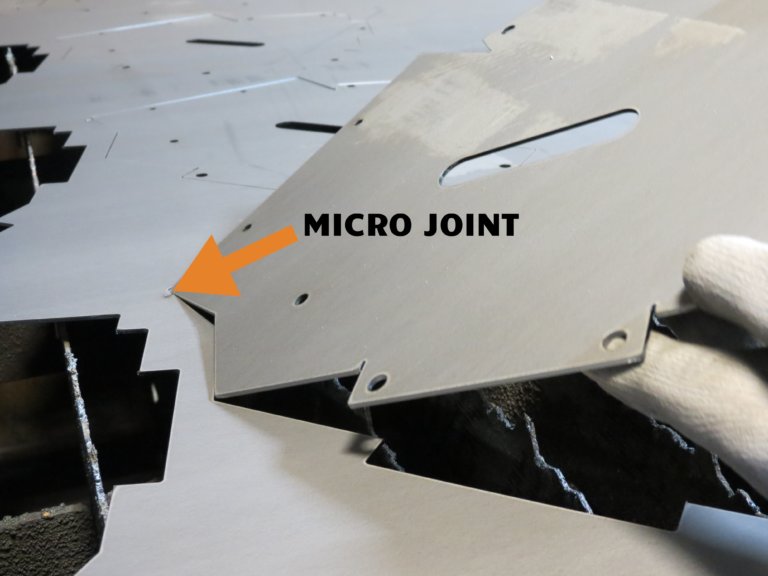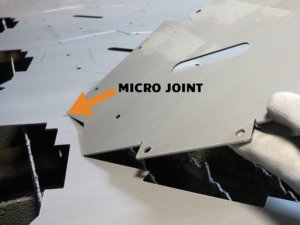 Fifth, after laser cutting three to five sample pieces of each part the metal bending process takes place.   During this phase, Ultra is ensuring we can meet the specified angles and tolerances utilizing the current design.


Finally, a thorough analysis of each part is conducted to verify it meets customer specifications and will function properly in the blade sharpener.  If specifications aren't met, then editing the laser programming is needed to achieve the desired results.  Our experienced Fabrication Technicians understand they need to evaluate the following key factors as they make modifications; material characteristics, equipment capabilities and specific features of a part.
Ultra's Fabrication Team is busy prototyping each of these 14 parts.  After each part has been finalized, we can move forward with the next phase:  Full Production.