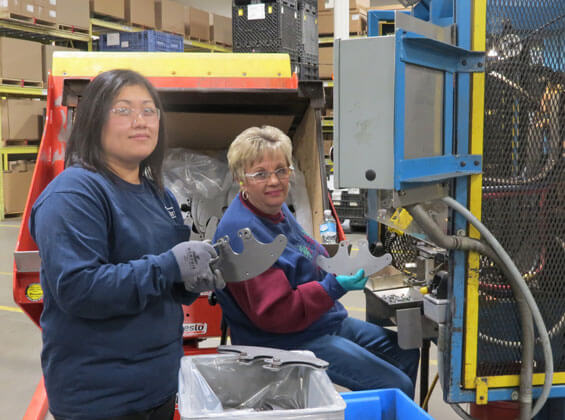 Manufacturing the

right job for you.

Looking for a challenge that will allow you to showcase your skills? Want a clean work environment that uses leading-edge technology?

Ultra Tool & Manufacturing was started in 1969 and is still thriving as a family-owned company focused on quality employees and quality services. We are a leading provider of progressive metal stampings, tooling and assemblies and are looking for dependable, conscientious people to join our team as we continue to grow in our Germantown, WI facility.
We have gathered employees' insights and perspectives to help you understand why working at Ultra is rewarding and the right place for you! Our supportive, team-based environment focuses on results and ensures you have the training and tools you need to succeed.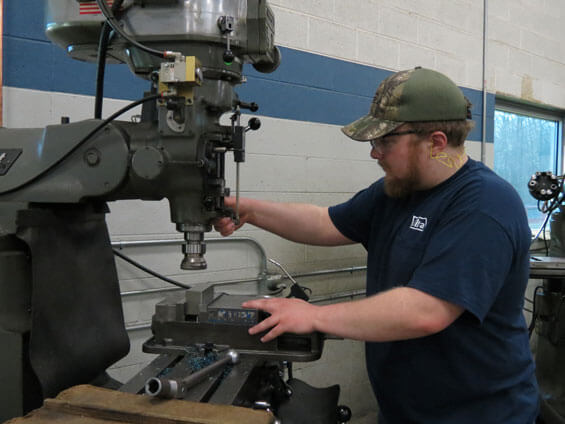 Joe, Tool Room Machinist
Ultra Tool has a great team atmosphere especially in the tool room. We focus on working as a team to make sure everything works smoothly – from our tools to our projects.
Ultra takes care of their employees with events such as company cookouts. They offer a very comprehensive benefits package.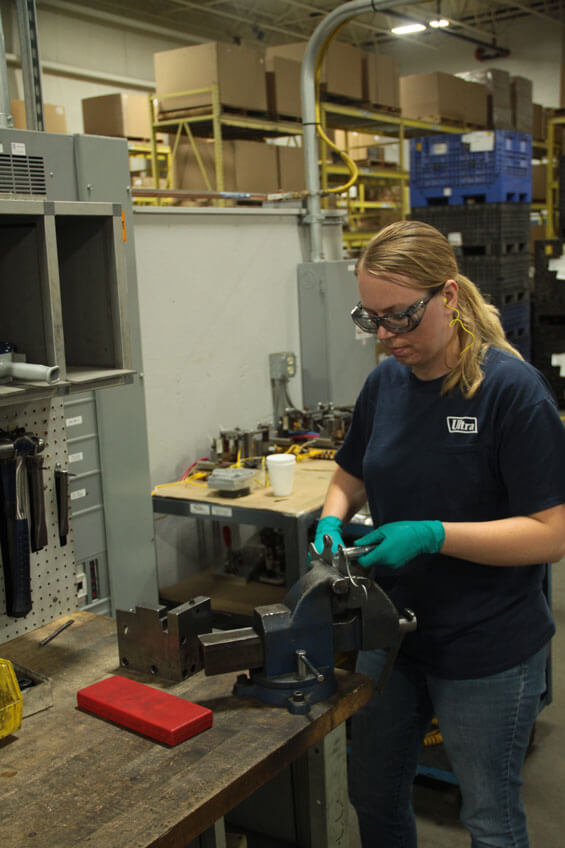 Felicia, Value-Added Process Technician
I love the flexibility at Ultra Tool because there are schedules to fit your needs. My weekend schedule allows me to complete a technical training program and spend more time with my daughter.
Ultra Tool has a positive, friendly atmosphere where everyone works together. Leaders show appreciation for your good work and discuss future opportunities for growth. The president or CFO personally hands out pay stubs and knows everyone by name.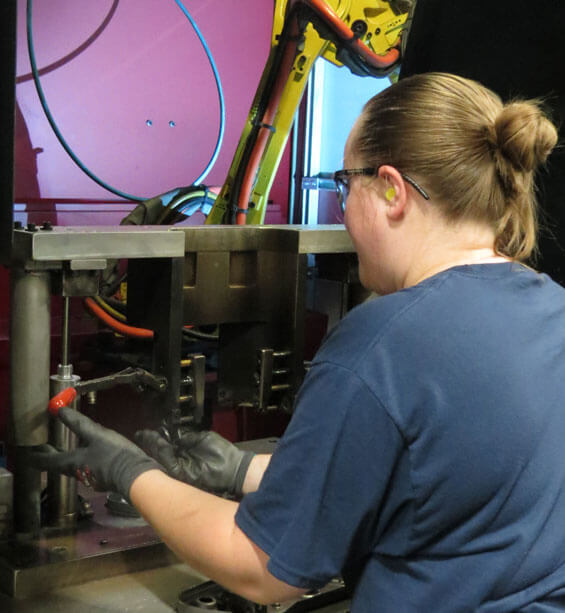 Loni, Value-Added Process Technician
Ultra Tool gives me the opportunity to be productive. I enjoy working with my hands and having visible results at the end of the shift. And I can see a path to grow and advance at Ultra Tool.
The company's concern for employees shows in their benefits package and it kicks in faster than other companies. They encourage us to take care of ourselves with special programs like 'Commit to be Fit' that reward your participation with prizes and time-off.
Welcoming all experiences at Ultra
Our in-house Training Center for Advanced Learning offers all employees the opportunity to learn about metallurgy, tool and die techniques, plant safety, manufacturing processes and the latest technology. Our focus is to help team members build new skills and become key contributors to the Ultra team. Current employees are provided with continuous training focused on new manufacturing and safety processes.
We've built our core values into our daily interactions with customers and co-workers.




New to Metal Stamping, Tooling and Metal Fabrication?
We welcome students and recent graduates to join the Ultra Tool team. We want our team to be successful.
I didn't want to work at my previous job for the rest of my life and wanted to improve my skills, so I went back to school at WCTC. I want to make things with my hands, so this is a great fit working in the tool room at Ultra Tool.
Joe S.
Women
We work with team members to identify interests and build skills, ensuring all have a path to advancement.
I love the flexibility that the company offers – there is a schedule that is a fit for just about everyone. I work 12 hour shifts on Friday, Saturday and Sunday which enables me the opportunity to complete my CNC set-up technician program at WCTC and spend more time with my seven-year-old daughter – especially during her summer vacation. In addition to being very supportive and flexible with my school schedule, the company pays us for 40 hours of work even though we only work 36 hours. I also enjoy a 4-day weekend!!
Felicia G.
Military Veterans
Your service supported us, and we give back by providing opportunities for you to put your talent and determination to work with a great team.
Compensation

and Benefits

Ultra offers attractive, competitive wages and a benefits package designed to help you take care of your family and yourself. We offer medical, dental and vision coverage, long-term and short-term disability insurance, life insurance, a matching 401K, tuition reimbursement and a flexible spending account for managing health care expenses.
Medical

On the first month after 30 days of employment, employees working a minimum of 30 hours weekly qualify for medical insurance.

Dental and Vision Coverage

For employees working at least 20 hours a week, dental and vision insurance is offered after 30 days of employment.

Disability and Life Insurance

Employees working at least 30 hours per week are eligible for life insurance and short/long-term disability insurance. Additional life insurance can be purchased for family members.

UNUM Supplemental Insurance

For expenses not covered by major medical insurance, UNUM provides additional support. Employees can sign up for this benefit after 30 days of employment.

401K Savings Plan

Ultra Tool matches 50% of employee contributions up to 4%. Employees are eligible to participate on the first of the quarter following 90 calendar days of continuous service.
Flexible Spending Account - FSA (Section 125)

If you are not using a Health Savings Account, the FSA helps pay for co-payments, deductibles, and some medications. Employees must work a minimum of 30 hours per week to be eligible.

Continuing Education - Tuition Reimbursement

Ultra Tool believes that empowering employees through education assistance achieves higher levels of professional development, personal fulfillment and increased satisfaction. We offer tuition reimbursement to active, full-time employees who have completed 6 months of employment with Ultra Tool.

Holidays & Paid Time Off (PTO)

Active, full-time employees that have completed 30 calendar days of service are eligible to receive 9 days (72 hours) of holiday time off. Paid time off (PTO) is based on your length of service to reward you for your continued employment.

Gym Reimbursement

With eight visits or more per month to a workout facility we will reimburse up to $20.00 per month.

Safety

Each employee is given an annual allowance to purchase safety shoes.
Employee
Recognition
Ultra recognizes employees spend many hours at work and we strive to create a vibrant, friendly and enjoyable environment. Monthly summer cookouts, annual team events, and holiday celebrations give us the opportunity to relax, celebrate each other, and have a good time.
Our people – YOU – make Ultra Tool a great place to work. Come join one of the best teams in the stamping, tooling and fabrication industry.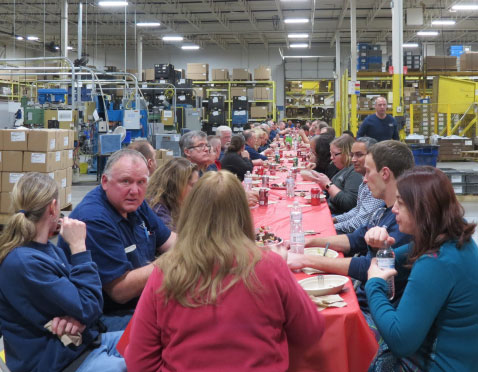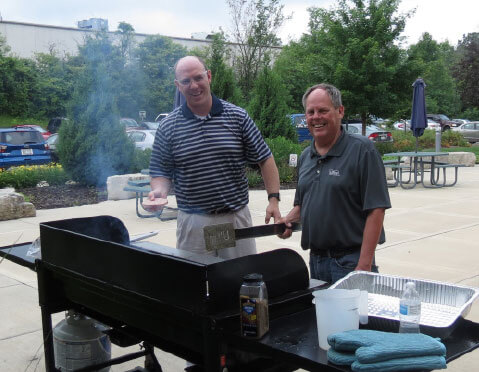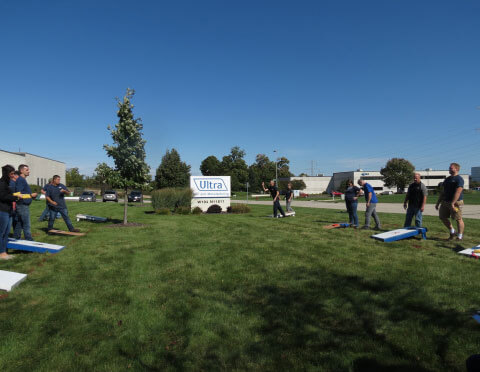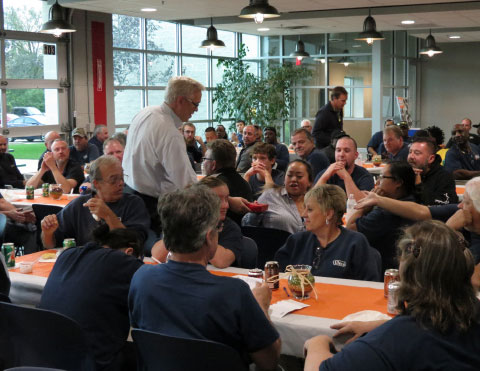 At Ultra Tool & Manufacturing we stand behind equal opportunity. We are building a team with the ambition, capability and work ethic to deliver great results on every project. If you're interested in a skilled trades career, looking for work-life balance and flexibility; or even seeking a new career challenge we have opportunities for you