Without reliable, high-quality and robust tooling on your production line, you will experience delays, minor damages and eventually shutdown.
Select a tooling supplier that is focused on innovation and quality to establish robust production operations.  Ultra does exactly this and as an added bonus we have more than 50 years of experience designing and building tooling dies.  A Global Foods Manufacturer trusted our expertise and services to improve the design of their production tooling.
This began with Ultra evaluating every component of their production tooling to determine the cause of continuous damages which were resulting in production issues and delays.
We discovered a weakness with the dowel holes and dowel pins on their production tooling.  Dowel pins, a type of industrial fastener, and dowel holes align the tooling in its proper location so that it can operate correctly on the production line.   The current dowel components were lacking in strength and quality and were causing the following issues.
Damages to the tooling during assembly and disassembly on the production line.
This set-up and removal system was taking too long and decreasing productivity levels.
The threaded dowel pins being used weren't made to withstand constant wear and tear.  They were built with a tapped hole going through the center of the pin which made them inherently weak.  Also, the flat end surface of the dowel pin limited its ability to adjust in the hole; and this increased the scraping and washing out of the dowel hole.  This dowel system established no lead-in or angle for placing and removing the tooling on and off the risers.
CUSTOMER'S GOALS:
Prevent costly damages to the dowel pins and dowel holes.
Improve the time it takes to assemble and disassemble the tooling on the production line.
ULTRA'S SOLUTION:
Machine open the dowel block and install replaceable inserts with dowel holes.  This hardened insert establishes a more solid base as the dowel holes and pins are aligned, and also for the location pin on the tooling which lines up with the center hole on this insert.  Ultra improved the dowel pins which are now composed of a hardened liner.  Also, the end surface of the dowel pins is now curved allowing for better lead-in and fit into the dowel hole.  Overall, Ultra has provided a more established system for assembly and disassembly of the production tooling.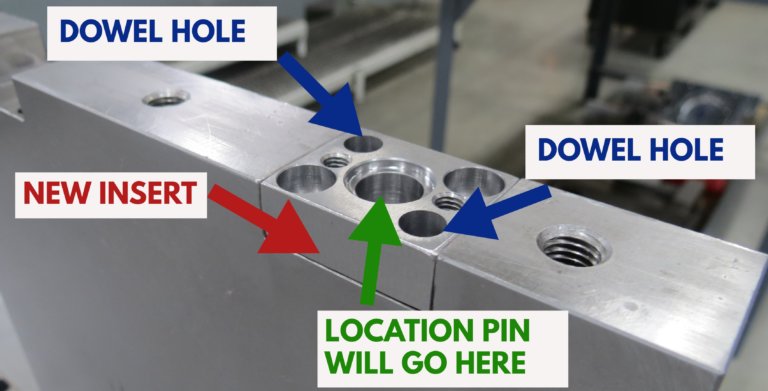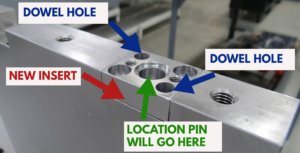 WATCH CNC MACHINING BUILD THIS PRECISION INSERT
RESULTS: 
Ultra improved the dowel features on five different production tooling operations for this Global Food Manufacturer.
Lessened the probability of damaging the tool and incurring additional costs.
Extended the life of the tooling with an innovative design and using quality, machined components.
Introduced better repeatability into the assembly and disassembly process of the tooling on the production line.
On-site repairs can be more easily completed by the customer because of the replaceable insert.
Ultra will provide preventive maintenance services for the tooling as needed.